Nov. 20, 2020
High Pressure Gauge Glass

Gauge glass provide you with all the items and components needed to build, improve or repair various types of tanks, boilers, mixed containers, etc. High pressure gauge glass can be solved transparently when accurate reading is required on high pressure vessels, such as boilers.
Tubular high-pressure gauge glass can be used in various types of equipment, and it is easy to obtain accurate liquid level readings and tank states. High pressure tube glass tube can be used in water tank, boiler, water storage tank, flow reading equipment and so on. Borosilicate glass structure makes tubular high pressure gauge glass durable, can withstand high pressure, high temperature and even corrosive chemicals.
High Pressure Gauge glass allows you to order any type of gauge glass, directly and easily online and provide various components at a reasonable price. By quick delivery and turnaround, you can get gauge glass, faster and make the device start and run quickly.
High Pressure Gauge Glass Product
Tubular Clear High Pressure Gauge Glass

Tubular Gauge Glass
High Pressure Tubular gauge glass provides red line, high pressure gap, heavy wall gap, and heavy wall red line. Color contrast makes reading the liquid level easier. This is done by applying a specially developed paint and incorporating it into the glass without etching. Parameter range: outer diameter: 4~315 mm, wall thickness: 0.8~12 mm, length: 1500 mm to 1800 mm. Depending on the application, the final surface can be cut, sanded or fire polished. The pressure rating varies from 90 PSI to 600 PSI, depending on the final finish, diameter and required length.
Tubular high-pressure glass can be used in various types of equipment, and it is easy to obtain accurate readings of the liquid level and status in the tank. High-pressure pipe diameter glass can be used in water tanks, boilers, reservoirs, flow reading equipment, etc.
Flat High Pressure Gauge Glass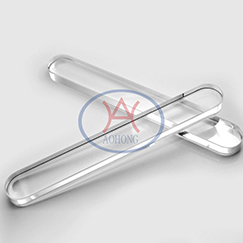 Flat High Pressure Gauge Glass
Flat High Pressure Gauge Glass is important to accurately measure the liquid level of boilers, tanks, mixing tanks or other containers. These flat glass are designed to allow technicians, operators or another employee to see the container directly and observe the liquid level and the condition in the container. Since the strength of each vessel depends only on its weakest part, it must be ensured that the strength of the flat glass is as strong as the rest of the vessel that will not bend under pressure. High Pressure gauge glass provides flat glass made of borosilicate glass, which is refined and can withstand even the worst conditions. Borosilicate glass can withstand high temperature, high pressure and even chemical corrosion. These glasses are developed to withstand the same strength as the metal and plastic containers connected to them, which means you don't have to worry about leakage, rupture or other damage
Aohong Glass offers a complete range of specification glass products suitable for all types of equipment and uses. Using the best quality materials and after careful testing, each specification of glass can withstand the most severe conditions. it is important to choose the High Pressure gauge glass that suits your needs, and the High Pressure gauge glass can easily find and order the exact items needed. With quick turnaround and delivery, you can quickly get the items you need, so that your new equipment is put into operation and necessary repairs or improvements are made.
Clear Heavy Wall Gauge Sight Glass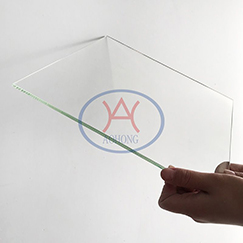 Heavy Wall gauge glass
Heavy Wall gauge glass is usually used in liquid level gauge and line of sight indicator applications, and its temperature and pressure exceed the temperature and pressure of high pressure gauge glass. The maximum length of thick wall gauge glass is limited to 48 inches.
We have factories and equipment including water cutter cutters and CNC machining centers that can produce mm 3 to 1500 diameters up to 25 m. Thickness, Glass can be cut into any length needed
Replacement Bubble Level Vials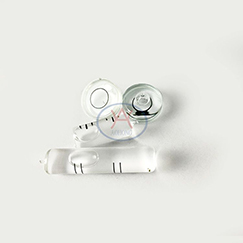 gauge glass bubble levelers
we focus on the production of level vials – bubble levelers made of gauge glass – especially for optoelectronic sensor vials for automatic levelers. our advanced production and detection technologies enable us to produce standards and customized bubble levels at competitive prices. The above shows a sample of bubble leveling bottle we provided, please click on the relevant image or link, or contact us according to your request.
High Pressure Gauge Glass Accessories
Acrylic Tubing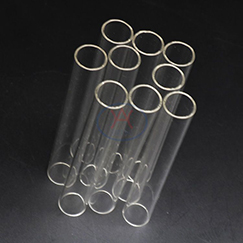 Quartz Acrylic Tubing
Quartz Acrylic Tubing, which made of guage glass, advantages are high purity, good spectral transmission, well controlled dimension and low OH, etc. Widely used in the filed of semiconductor, metallurgy, chemical industry, electric light source, photo-communication, medical equipment, scientific instruments and so on. Size: OD: 3-400mm, Wall thickness: 0.7 - 10.0mm , length maximum 3000mm.
Mica Shields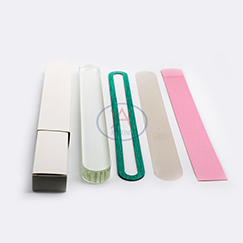 Mica shield
Mica shield can provide the best protection for the water level and liquid level meter of high pressure steam boiler and the transparent mirror on the column. When used at higher steam pressure and higher working temperature, the shield can maintain the basic strength and prolong the service life of the observation mirror.
Mica shield also provides perfect visibility for monitoring combustion characteristics or degrees in steam boiler blast furnaces. Mirrors in steam boilers should be exposed to harsh working conditions (thermal, mechanical and chemical). on the glass surface, crystalline sediments of minerals interact violently on the glass surface, especially at higher temperatures and pressures, and depend on the pH value of the liquid. This interaction will not only cause the glass to lose its luster, but also cause corrosion due to the decrease of the thickness of the observation mirror, which will reduce the strength and may lead to dangerous faults. Glass loss of unprotected observation mirror and standard specification glass mainly depends on pH value and boiler water temperature, which may reach millimeter per month.
Graphite Gasket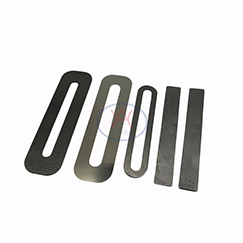 Graphite gaskets
Graphite gaskets combine strong heat resistance and heat resistance impact, and damage occurs when the temperature of the components changes rapidly. Typically, these industrial gaskets are made of expanded sheet and foil core materials. Non-asbestos gasket, asbestos free gasket, PTFE gasket, graphite gasket for gauge glass.
Gauge Glass Washers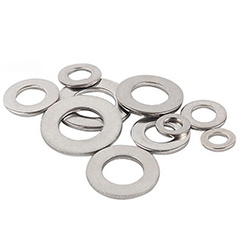 Gauge Glass Washers
Gauge Glass Washers are used for boiler water level gauges and level gauges, allowing you to repair any equipment that is damaged or easy to install a new level gauge on the water tank.
The washers have many types of sizes and materials, such as EPDM, Viton, Teflon, Grafoil, and many more.
Various sizes of glass washers can be customized according to various application requirements.
Gauge Glass Float Balls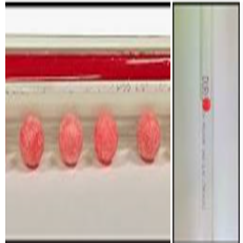 gauge glass float balls
The red gauge glass float balls are standard glass float for high pressure standard wall glass, which can be placed inside the tubular gauge glass unit to make the liquid level on the boiler easy to read. The float is 328 inches in diameter.
Steel Wire Gage-Glass Cleaning Brushes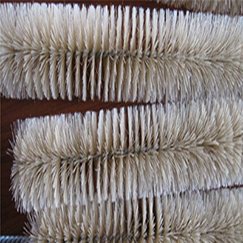 Gauge-Glass Cleaning Brushes
14 Steel Wire Gauge-Glass Cleaning Brushes are used for cleaning tubing gauge glass are composed of gauge steel wire and gauge steel wire. There are many general models to match different specifications of Gauge Glass, such as Gage Glass
OD Size 5/8 inch or OD Size 3/4 inch, the brush has different lengths from 24 to 72 inch to match (Four convenient lengths 12 inch, 14 inch, 24 inch or 36 inch)
High Pressure Gauge glass valves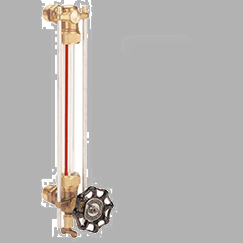 Gauge Glass Valve
Gauge Glass Valve is also called two-color water level gauge/liquid flow indicator/boiler sight glass/boiler sight glass valve. It is widely used in steam boilers and ordinary boilers. It can be used to observe and indicate the water level of industrial steam boilers and locomotive boilers. It is made of cast iron and glass. It is made and has a flange connection with the boiler, and the pressure and water level can be observed through Gauge Glass. This kind of valve has a simple structure and is easy to wash. It does not require any adjustment during installation and use, and is not affected by water quality. When power is off, other light sources can be used to identify the water level. The Nominal pressure range is 1.6MPa-4.0MPa, Medium temperature is ≤250°C
Gauge Glass Brass Nuts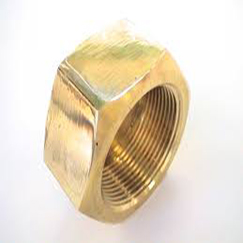 Spare Gauge Glass Brass Nuts
Spare Gauge Glass Brass Nuts are for level gauges for steam, tap water or other. Each type of different size nut uses different specifications of boiler water level gauges and level gauges, such as 5/8 inch or 3/4 inch nuts, suitable 5/8inch and 3/4inch glass or red line glass, if the fasteners of your level gauge appear rusty and loose, you need to replace our level brass nuts to ensure the safety of the boiler during use
Gauge Glass Galvanized Protector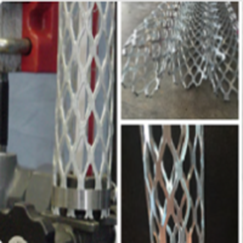 Gauge Glass Galvanized Protector
The Gauge Glass Galvanized Protector is used to protect the gauge glass from damage, and to reduce the risk of safety due to glass breakage. The protector is sprayed with a protective layer of expanded metal, flat made of galvanized carbon steel The screen protector can be freely cut into various sizes to meet your needs
FAQ of High Pressure Gauge Glass
What is High Pressure gauge glass in boiler?
Boiler water level gauge glass is installed on boiler water level gauges or liquid level gauges to observe or monitor the steam and water level of pressure vessels.
How many different High Pressure gauge glass are there?
Three types of level gauges are commonly used:
Magnetic type level gauge.
What are the indications comes in sight glass?
The principle is based on the reflection of light. in the gas or gas phase, light is reflected by the prism groove of the viewing mirror for bright indication. In the liquid phase, light is absorbed, causing the liquid level to dim.
Buy low price, high quality High Pressure gauge glass. You can choose our products. Our company is the leading gauge glass factory. Warmly welcome new and old customers to contact us !
Click Here To Request a Quote